The best way to see the world is to drive. There's nothing like getting out on the open road and exploring new places. The classic road trip is something that should be on everyone's bucket list. Waking up in a new city every morning, finding the local food and meeting new people is the stuff of legends. You'll make more memories and have more stories to tell than your typical beach holiday too.
If you do it right, it doesn't have to cost a fortune. It can be a cheap alternative to a big holiday and you might just have more fun. You can pack much more into two weeks when you're driving. You can see the entire length of a country. You could drive the length of the UK in a day for example. The USA might take a bit longer but there's plenty to see. There's no need to rush a road trip, it's all about the journey.
Before you set off on your great adventure, make sure you do a little research and planning. Simply jumping into the car is a recipe for disaster. At the very least, it's a recipe for arguments! Set a budget, make a route and make sure your vehicle is in tip-top shape. The last thing you want is a breakdown to ruin the holiday. Follow these simple tips and you'll be well on your way.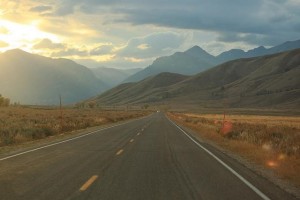 Thanks to Daniel D'Auria for the image
Plan the route
Road trips should always be about spontaneity. You should let the world take you and see what adventures are thrown up. However, you should have a destination in mind. You should plan a general route and mark out key stops along the way. Spontaneity is good, but mix it with a healthy dose of direction. A route and a plan makes sure you get to see everything you want. At your destination, try to give yourself a few days to actually relax before you hit the long road back home.
If you're travelling with friends or family, let them each pick one thing or place they want to stop. It could be a particular museum on the route, a certain city or a monument. That way, everyone gets to have a say and something to look forward to. Everyone else will get to experience something new as well.
Get a GPS
You might think you know where you're going, but you never know what might come up. Roadworks or blocked routes can derail an entire road trip. If you've got a GPS handy you can always find an alternative route. It will also cut down on arguments and save you from getting lost. When you're in a new place it's always difficult to familiarise yourself. It also helps to carry a physical map too. This is much more useful if you need to stop for advice or directions. Showing local people a map can let them point out exactly where you are, for example.
Be aware that some countries prohibit the use of GPS. This is the case in most continental European countries. The reason is that they highlight forthcoming speed cameras which is illegal in many countries.
You don't have to stick to the plan
Try to keep that one destination in mind. However, the beauty of the road trip is that you can change course at any time. If a new adventure rears its head, follow it. See where it takes you. If you pass a particularly interesting town, stop by and visit. Keep your plans flexible and let the road take you to new places.
Choose your vehicle wisely
This is important. By its very nature, a road trip puts a lot of pressure on your car. Is your vehicle up to the challenge? If you've recently picked up a brand new car from RRG Group, you're probably okay. If you've got an older model with a rickety engine, be aware of the limitations. You'll also have to take certain things into consideration if you're driving in a foreign country. Are there certain laws you need to be aware of? Should you consider hiring instead of driving your own car?
Check your vehicle
Before you hit the road, you'll need to make sure the car is in good working order. Get under the hood and check all the fluids. That's the oil, coolant, transmission fluid and windscreen water. If you're in any doubt, don't be afraid to replace them. These fluids are essentially to the smooth running of your car. You don't want any problems out on the road.
Be sure to do a thorough check of your tyres too. You'll be putting them through their paces on a lengthy road trip. Ensure that your tyre pressure is at the right level. Too low and you'll burn through fuel like crazy. Too high and you risk poor handling and losing control. Finally, check that the tread is above 2mm. On long journeys you need adequate grip and control on the road.
Make a budget
Before you leave, try to put together a sensible budget. Once on the road, stick to it. Fill the car up with fuel before you leave. Remember, you know where the cheapest stations are at home. Try to take a lot of food with you to cut down on spending on the road. Of course, you should indulge in a few meals along the way. It's always good to try the local cuisine. However, things like breakfasts and lunches can be eaten in the car. Finally, those car checks we talked about, keep doing them! Correct tyre pressure and correct tread depth will help your car run more economically. A well kept car is cheaper to run.
That's just about everything! Make sure you take some entertainment for the long journey. Stock up on music, books and games to while away the driving time. Try to switch up the driving with friends or family so one person isn't doing the majority. Now, all that's left to do is enjoy the sights and hit the road.